Fall Conference Page
We want to continue building our fellowship and our relationships through our Annual Conference this fall. The speaker will be David Arrol MacFarlane, though that really is an understatement because David will bring us so much more. He is a Keynote Speaker, yet he is also a Trainer, Evangelist, Comedy Entertainer and Non-fiction Author. As a Trainer, he inspires people to grow. As a Keynote Speaker, he motivates people for change. As an Evangelist he helps people find faith in Christ. As a Comedy Entertainer, he makes people laugh. As a Non-fiction Author, he challenges people to Come Alive! His calling in life, as a follower of Christ, is to serve people, give them recognition and provide them opportunities for growth.
The Conference weekend will include an evening of entertainment on Friday with Maviro (aka David). It will be a blend of illusion, comedy and the presentation of truth, focusing on children and youth but great for all ages.
On Saturday, David will provide training and motivation for personal evangelism and growth, in morning and afternoon sessions. Of course, throughout the weekend there will be opportunities for worship, as well as fellowship and updates from member churches and associates. And we'll have the opportunity to share a meal together, and the meal for Christians, Communion, on Saturday.
CECF 2018 FALL CONFERENCE
October 12 & 13, 2018
---
Canadian Evangelical Christian Fellowship
c/o St. Paul's Congregational Church
450 Park Ave. West
Chatham, Ontario N7L 4M5
Canada
(info@cecf.ca)
Phone: 519 436-0255
Email: stpauls@discover-life.ca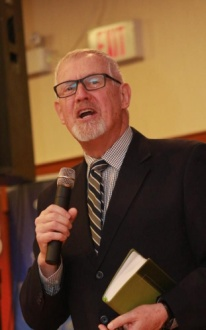 Friday night –
6:45 PM – 7:00PM – Praise & Worship
7:00 PM – 8:30 PM - Comedy Illusion Show by Maviro

Saturday –
8:45 AM – 9:15 AM – Registration, refreshments & fellowship
9:15 AM – 9:30 AM – Praise & Worship
9:30 AM – 10:30 AM – David MacFarlane
10:30 AM – 10:45 – Break
10:45 AM - 12:00 noon – (Open)
12:00 noon – 1:00 PM – Lunch
1:00 PM – 1:15 PM – Praise & Worship
1:15 PM – 2:15 PM – David MacFarlane
2:15 PM – 2:30 PM – Break
2:30 PM – 3:00 PM – Business meeting
3:00 PM – 3:30 PM – Communion and Wrap-up